Shimmering silk and profuse incense .... towering temples and gopurams and vibrant festivals .... rhythms of dance and music, and endless, undisturbed silver lined beaches, history has remained untouched for centuries here, and has unobtrusively merged with the present. Tamil Nadu, the heart of the Dravidian culture and tradition, has been a pioneer of peace and knowledge, since time immemorial, and the visual legacy of the culture of the state, is among the most satisfying spectacles in India.
Tamilians learn to appreciate culture from a very young age, and have a deep interest in music, dance and Literature.

Bharatanatyam
Bharathanatyam is a classical dance of Tamil Nadu full of rich beauty, unfettered rhythmic movements and expressions. It is over 2000 years old.
The name Bharathanatyam consists of two words "Bharatha" and "Natyam". "Natyam" means dance in Tamil. "Bharatha" is the name of the writer of the earliest known treatise on dance in Sanskrit called "Natya Sastra" written in the second century before Christ. Natya Sastra is venerated as the fifth Veda. Another explanation for the word Bharatha is that, it can be broken in to "Bha", "Ra" and "Tha". "Bha" stands for "Bhava"- Emotion, inner spiritual feeling expressed visibly. "Ra" stands for "Raga"- Melody. "Tha" stands for "Thala"- Rhythm.
Previously known as Sadir, Dasiattam & Thanjavur Natyam, this dance demands unconditional and undivided dedication on the part of the performer. It is a dynamic and earthy dance style.
Interested to Know more about Bharatnatyam visit Kalakshetra in Chennai, Tamil Nadu a cultural academy for preservation of traditional values in Indian art, especially in the field of dance and music.
Folk Dances
Tamilnadu had developed the art of entertainment to its pristine heights at early age. The three modes of entertainment classified as Iyal (Literature), Isai (Music) and Nadagam (Drama) had their roots in the rural folk theatre like Therukoothu. Many forms of group and individual dances with the classical forms for popularity and sheer entertainment value. Majority of these dances are still thriving in Tamil Nadu today.
The more celebrated forms of village folk dances are :
Karagaattam, Kummi, Mayil Attam, Kolaattam, Oyil Kummi, Kavadi Aattam, Poikkal Kudirai Aattam, Kai Silambu Attam, Silambattam, Chakkai Attam, Kazhai Kothu, Thappaattam, Bommalattam or Puppet Show, Bagavatha Nadanam, Theru Koothu, Devaraattam, Oyilattam, Snake Dance, Urummi Attam, Ottan Koothu, Kamandi or Kaman Pandigai, Puli Attam, Kali Attam, Sevai Attam, Villu Pattu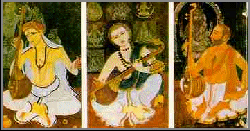 Carnatic Music
Carnatic music originated in the fertile plains of the Cauvery delta and flourished through the ages.Vaggeyakaras are the persons who composed many songs which are rendered in its original form to date. The Trinities of Carnatic Music, Saint Thyagaraja, Muthuswamy Dikshithar and Shyama Shastri were all born in Thiruvarur near Thanjavur and the songs composed by them have explored & exhibited the depth and the rich feeling in this form. The other notable composers are Patnam Subramaniya Iyer, Papanasam Sivam, Raja Swathi Thirunal, Annamacharyar, Purandaradasar,.......
The subject matter of the songs mainly dealt with the various Gods and Goddesses, extolling their lives, their virtues, reflecting the varied moods of humans like happiness, gratitude, fear, sorrow.Though Composers have also dealt with subjects like patriotism, natures bounty etc., their soul and heart were to a very great extent limited to the deities they considered prime. Music is looked upon as a means of attaining Moksha ( Salvation ).
Unnai thudhikka arul tha innisayudan
Bless me, O Lord! to praise thee through Music
Folk Music
South Indian folk music has rich aesthetic ingredients and a wide variety. Research has revealed that it has rich aesthetic structures. Private albums and performances of folk music are drawing a wide audience. Many of the ragas of South Indian Music resembles folk music. Its interesting to note the different kinds of folk music resemble different kinds of ragas.
General classification of Folk music is listed below.
Thaalattu (Lullaby)
Kummy (Hand beat)
Nadavu (Sowing in agriculture)
Oppaari (Death rites music)
Themmaangu (Agricultural music)
Lavani ( Music duel)
Fisherman's music
Unlike classical music, which is bound by certain laws and restrictions, having a definite standard and scale with 22 intervals, folk music has flexibility in its expression and has different forms depending on the region it belongs to. It is not bound by laws or any set pattern. It is characterized by peculiar expressions and emotions and has established a tradition of its own. In terms of identifying with fellow humans, their feelings and expressions, folk music is more effective than classical music.
In folk music, contrary to classical music, musical notes have less value. Poetic content and rhythm play a very important role. Folk music also has rich variety. Rhythmic aspects observed in occupations like agriculture, fishing etc., are incorporated into it.
Folk music instruments can be broadly classified into Percussion instruments, Wind instruments and String instruments. Of these three, Percussion instruments dominate over Wind instruments. String instruments are rarely used.
Songs and lyrics of folk music portray the common life of the villagers. Except in the tribal areas, men and women are usually segregated in song, having independent repertoires and occasions for music. Women's songs, often unaccompanied, are sung at weddings, childbirth, festivals and also during agricultural and household activities. Men's songs, often accompanied at least by percussion instruments, are connected with devotional practices, particular festivals, and work .
In most regions specialist musicians perform for ritual, devotional, didactic, and entertainment purposes, sometimes as hereditary responsibility but often for payment in kind or money. These specialists include priests, religious mendicants, entertainers, storytellers, and theatrical troupes.
Tamil Literature
The earliest Tamil literature goes back to the Sangam period. In ancient times, the assembly or academy of most learned men of Tamil land was called 'Sangam' and the literature produced in these assemblies is known as the Sangam literature. The compilation of the corpus of literature was accomplished over a period of three to four centuries but there is a controversy amongst scholars regarding the exact period of the Sangams. Perhaps, the Sangam period stretched from 600 BC- 200 AD. Many Tamil scholars mention about the existence of three Sangams at Madura, Kapatapuram and Northern Madura respectively. It is believed that most of the works relating to the first two Sangams dealt with music and dance. Unfortunately all the works of these two Sangams are lost, except for Tolkappiyam, which is the oldest extant grammar dating back to 500 BC. The literature of the third Sangam period mainly comprises of poems which are arranged in eight anthologies called Ettuttokoi and ten idylls called Pattuppattu. Ettuttokoi consists of Narrinai, Kuruntogai, Ainkurunuru, Padirruppattu, Paripadal, Kalittogai, Ahanuru and Purananuru. Pattuppattu consists of the following ten idylls by eight different authors: Tirumurugarruppadai, Porunararruppadai, Cirupanarruppadai, Pattinappalai, Kurincippattu, Nedunalvadai, Maduraikkanci, Malaipadukadam, Mullaippattu and Perumpanarruppadai. The third Sangam period also saw a collection of minor works called Padinen-kizhkkanakku which deals mainly with moral virtues. Among them, the most notable is Tiruvalluvar's Tirukkural or Kural, which deals with philosophy and wise maxims. The Sangam literature, unlike the Rig Vedic texts, was secular in nature and revolved around the themes of various heroes and heroines. The Sangam literature provides very valuable information on the social, economic and political life of the people living in deltaic Tamil Nadu in the early Christian centuries.

The post-Sangam period (200-600 AD) is notable for the composition of five great Tamil epics -- Silappadikaram, Manimekalai, Jivaka-cintamani, Valaiyapati and Kundalakesi. Silappadikaram is considered to be the brightest gem of early Tamil literature. It is an invaluable source book of ancient Tamil dance and classical music. The other major epics produced in Tamil include Jivakachintamani or Mudiporultodarnilaiseyyul, Valaiyapati and Kundalakesi. Besides these, the Jain authors have produced five minor works -- Yasodhara-kaviyam, Chulamani, Perunkathai, Nagakumara-kaviyam and Nilakesi.
Between 600-900 AD, the Tamil literature came under the influence of Saiva and Vaisnava saints called Nayanmars and Alvars respectively. The Saiva saints first compiled their hymns into the Devaram. The hymns of the Saiva saints were later collected into twelve anthologies called Tirumurais. The Periya Puranam or Tiruttondar Puranam, considered as the twelfth Tirumurai, was composed by Sekkizhar (12th century AD). The Vaishnavaite saint Nathamuni (824-924 AD) compiled the Vaishnava hymns into four books called Divya Prabandham or Nalayira Divya Prabandham. The other Alvar saints who contributed to the Tamil religious literature include Periyalivar, Poigaialvar, Bhutattalvar, Andal (the only woman saint among Alvars) and Nammalvar. Nammalvar's Tiruvaymozhi, the third book of Divya Prabandham, is said to be a quintessence of the Upanishads.
The Cholas were the great patrons of Tamil literature. One of the great figures of Tamil literature, Kamban, belonged to this period. He was the greatest of the court poets of Kulottunga Chola III (1178-1218 AD). He adapted Valmiki's Ramayana in Tamil in his Ramakatai or Kamba Ramayanam, which is very unique in its style and technique. He also composed other works like Erelupadu and Sathakoparandali. The other great works of this period include Ottakkuttan's Uttarakandam, Takkayagapparani and Muvarula; Pugazhendi's Nalavenba; Auvaiyar's Atticcudi, Konraivendam, Mudurai and Nalvazhi; Jayankondan's Kalingattupparani; Iraiyanar's Kalaviyal; Kalladanar's Kalladam, Aiyanar Itanar's Purapporulvenbamalai, Puttamittiranar's Viracozhiyam, Divakarar's Divakaram, Pingalar's Pingalandai and Pavananti's Nannul. Another important poet who flourished during the Chola period was Kuttan, who authored great works like Nalayirakkovai, Parani, Tukkayagapparani, Sarasvatiyandadi and Arumbaittollayiram. Other noted scholars of the Chola period include Tirutakadevara the author of Jiwana Chintamani and Talamokti, the author of Sulamani and Venkatamadhava who wrote a commentary on Rigveda during the reign of Parantaka I.
The modern period witnessed the impact of Islam and Christianity on Tamil literature. Umaruppulavar (1605-1703 AD) was the earliest among the Muslim Tamil poets. He composed the Sirappuranam, which is a verse narrative on the life of Prophet Muhammad. Another work dealing with the Islamic faith was Muhaidin Puranam (1845 AD) by Mohammad Ibrahim. Constanzio Beschi (1680-1747 AD), who adopted the pseudonym of 'Viramamunivar', wrote a classic Tembavani, on the life of Jesus Christ.
Subramanya Bharati (1882-1921 AD) was one of the greatest of Tamil litterateurs of the modern times. He is renowned for his patriotic and devotional songs and intense prose writings on contemporary social affairs. His Panchali Sabadam is an epic poem based on a single episode of the Mahabharata. His other great works include Kalippattu, Kannanpattu and Kuyilpattu. The other renowned Tamil poetic works of the modern times include Meyyarivu and Padal Tirattu of V.O.Chidambaram; Malarum-malaiyum and Umarkkayyam-padalkal of Desikavinayagam; Podumai Vettal, Tamiizhan Idayam and Sankoli of Kalyanasundaram; Avalum Avanum of N.K.Ramalingam; Azhakin Sirippu, Pandiyan Parisu, Tamizhiyakkam, Kudumbavilakku, etc of Bharatidasan. Durai Manickam was another important modern Tamil poet who is credited with prolific works like Aiyai, Nurasiriyam, Koyyakkani, Ensuvai Enbatu and Paviyakkottu. The other renowned poets of this period include M.L.Thangappa, Mudiyarasan, Ezhilmutalvan, N.Kanakaraja Iyer, A.Srinivasaraghavan, Kannadasan and Tamizhazhagan.
Paramartta Gurukathai written by Viramamunivar in the 18th century affords the earliest specimen in novel writing in Tamil. However, Vedanayagam Pillai (1824-1889) is credited with the writing of the first novel in Tamil, Pirataba Mudaliyarcharittiram in 1875. H.A.Krishna Pillai (1827-1900) adapted John Bunyan's The Pilgrim's Progress in Tamil in his Iratcanyayattirigam. The other important works of this period include Bharatam of Perundevanar, Nandarcharittirak-kirttanaikal of Gopalakrishna Bharati, Kamalambalcharittiram of Rajam Ayyar (1896), Padmavatichaittiram of Madhaviah, Menaka and Balamani of Vaduvur Duraiswamy, Ratnapurirahasyam of A.Kuppuswamy, Mannasai and Kariyadarisi of Shankara Ram. M.Varadarajan (1912-1974) experimented with several new techniques in Tamil novels. His famous works include Perra Manam (1953), Karittundu (1953), Ahalvilakku, Sentamarai and Mankudisai. C.N.Annadurai has two important works to his credit - Nallatambi and Rangoon Radha (1952). Akilan won the Jnanpith Award in 1976 for his novel Chittirappavai (1968). The other important novelist of modern times include Anuttama, Jayalakshmi Srinivasan, Kodainayaki Ammal, N.Parthsarthy, C.Subramanyam, Jayakantan and Sundaram Ramaswamy. V.V.S.Aiyar, Kalki, Pudumaippittan, B.S.Ramayya and ASP Ayyar are renowned short story writers in Tamil.
Thirukkural
The Holy Kural was written by a weaver who lived with his wife, Vasuki, in what is today a part of Madras in South India in the 1st century before the birth of Christ. Details of his life are meager. It is known that his wife was the perfect example of devotion and obedience to her husband, and several stories are told depicting the harmony in their marriage. This was Tiruvalluvar's only work, and though it is relatively short, it was sufficient to bring renown to a humble weaver, making him a venerated sage and lawgiver of the Tamil Dravidian people.
In the Tamil language "Tiru" means "holy" or "sacred," and "Kural" means anything that is brief or short. In this case it describes the very difficult and disciplined venpa meter in which the verses were written. Each verse is extremely short, containing only two lines of fourteen syllables. In fact, it is the shortest form of stanza in the Tamil language. In many ways these couplets are similar to the Sanskrit sloka. The entire scripture consists of 133 chapters with each chapter elucidat' a different aspect of human virtue or human fault. There are ten kural couplets per chapter, making a total of 1,330 couplets in the entire scripture. In his work Tiruvalluvar chose a topic - such as children, friendship or avoidance of anger - and gave us ten different couplets on the one subject. To properly understand his perspective on a subject, each of the ten couplets must be read, for they are like facets of a gem - all reflecting the light of his understanding slightly differently and adding to the richness of his comprehension.
It is perceived that the saint spent the fullness of his life quietly observing, simply observing the human condition. Then, toward the end of his life, he was asked to speak out and share the wisdom others in the community knew he possessed. The Holy Kural is his response. This classical work written in Tamil, has been translated in over 60 languages of the world.
For further information
Tamil GUI that displays a Thirukkural on your screen - freeware for downloading (no fonts needed). Elango's Kural Page.
Thiruvalluvar on the rocks in the mid sea at Kanniyakumari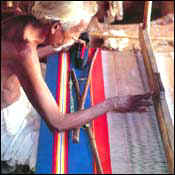 Arts and Crafts of Tamilians
Weaving
Over the ages, India has conjured up different images at different times, but one constant through the centuries has been its textiles. And one region which has always been in the picture in this regard has been Tamil Nadu. Early records speak of fine muslin and silks and hand painted calicos that the Greeks came to buy from Tamizhagam, the home of Tamil.
It was during the Sangam Age - approximately straddling a century before and after the start of the Christian era -- that silk and cotton weaving reached its zenith. Uraiyur/Karur and Madurai, situated close to the cotton fields, were major centres of weaving. They still are. Weaving was a highly regarded profession. It is said the Chola princes wore only cotton. The king's robe was of quilted cotton, with a garment worked with gold.
This is an age of Kancheepuram silks. But in earlier days, Kumbakonam and surrounding villages were the traditional silk weaving centers.
Over the centuries, many weaving traditions were lost. But with the founding of the Weavers Center in Chennai and the Kalakshetra Center, where only authentic methods and materials are used, these traditions, with careful study and research, are slowly being revived.
The Art of Making Jewels
Jewels - these have been capturing man's heart for centuries. More than silver, the yellow metal has held man in its grip since time immemorial.
In South India, wearing of silver jewellery is mostly associated with the tribals and the rest resort to gold items only. The Chettinad (in Tamilnadu) jewellery made of uncut rubies is one of the finest. The Addigai is an important neck item also made of uncut rubies set in gold. Mangai Malai, a long necklace made of mango shaped pieces studded with uncut rubies and diamonds is another specialty of this area. Nowadays diamond jewellery has caught the fancy of the South Indian women. The Thalli, a necklace, which is worn during marriage, also has various patterns according to the community of the couple.
The women in South India are easily distinguished by their long hair, usually tied into plaits and always adorned with fresh flowers. They are also bedecked with heavy jewelry, made mostly of gold.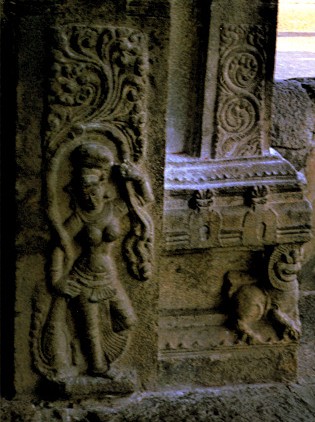 Stone Sculptures
The beautiful temples that dot the South Indian state of Tamil Nadu have lent the state the sobriquet of "land of temples". The glory of Tamil temple architecture reaches its pinnacle in the Meenakshi temple at Madurai. The temple with its profusion of sculpture and magnificent proportions, the thousand-pillared mandapas and the pillars of stone, towering gopurams (gateway) and larger-than-life-sized reliefs speak highly of the architectural skills of the Tamil sculptors.
South Indian sculpture is primarily realistic. The sculptor strove to create from stone an image as close to human likeness as possible - although both the feminine and masculine forms became frequently idealized. Indian sculptors often endowed their life-like creations with slim waists, lithe limbs and a youthful or sensuous poise.
Often, ancient and medieval Indian sculptors were also nature-worshippers. Trees, creepers and flowers along with birds and deer are depicted with a loving grace. Abstract figurations are also to be found in the sculptors palette.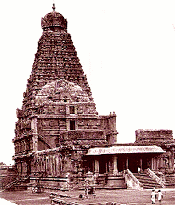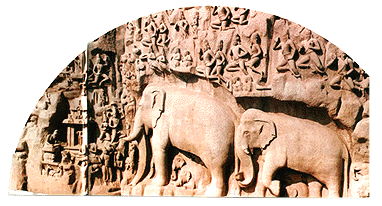 Mahabalipuram
This group of sanctuaries, founded by the Pallava kings, was carved out of rock along the Coromandel coast in the 7th and 8th centuries. It is known especially for its rathas (temples in the form of chariots), mandapas (cave sanctuaries), giant open-air reliefs such as the famous "Descent of the Ganges" and the temple of Rivage, with thousands of sculptures to the glory of Siva.
There is also a school for training the Sthapathis according to the rules of the ancient Shilpa Shastras.
Bronze Sculpture
Tamilnadu's bronzes place them among the greatest achievements among Indian Art. A rare combination of beauty and power has culminated in a sophisticated and unique sensitivity, further emphasized by variety and range.
The art of bronze casting in Tamilnadu is strictly governed by the canons of iconography and iconometry. The measure of the bronze figure is the THALA, the distance from the forehead to the chin. The figure is prepared according to the cire perdue or lost wax method, known as the madhuchchistavidhna. The sculptors, like all other artisans of India, have inherited their knowledge and skills from their ancestors.
The image is first molded in wax, then coated in clay strengthened in ground cotton, salt and charred husk. This coating is applied three times. Then the chosen metal is heated and poured into the mould, from which the wax had been heated and removed earlier. This mould is allowed to cool, carefully broken and the image is brought out. The final touches are given by hand-the burnishing, the finishing and the perfecting of the minutest detail. The figures are generally solid although less important ones like Nandi may be hollow.
Tanjore Paintings
Tanjore paintings which depict mainly the scenes from the ancient scriptures of Hindu religion are one of the most famous style of paintings from south India. These paintings are unique due to the harmony of colours, the design and the traditional techniques used with meticulous attention to details.
Tanjore derives its name from the capital of Chola empire, Thanjavoor.This art form was developed with the patronage of the Maratha rulers in the 18th century. This type of art which is famous for its ornamental relief work flourished with the patronage of the kings. The process of making a Tanjore painting requires dedicated skilled labour.
The paintings are notable for their adornment in the form of semi-precious stones, pearls, glass pieces and gold. The rich vibrant colors, dashes of gold, semi-precious stones and fine artistic work are characteristics of these paintings. They add beauty and culture to a variety of surroundings and décor. The paintings are mostly of Gods and Goddesses because this art of painting flourished at a time when fine-looking and striking temples were being constructed by rulers of several dynasties. The figures in these paintings are large and the faces are round and divine. However, with the rebirth of this art in the twentieth century, artists in addition to recreating the original Tanjore figures are also experimenting with more proportioned figures, birds, flowers, animals, etc.
Kolam
"Kolam" refers to decorative artwork drawn on the floor in front of houses and in front of deities in puja rooms. Most often finely ground rice flour is used to make these drawings on wet/moist ground previously sprinkled with water (even dilute solutions of cow-dung cake that gives a darker background to the mud floor). Coloration of the artwork with color powders adds additional charm. It is a time old cultural tradition of south indian families going back to many many generations. Young girls learn many of these artwork from their mothers, grandmas, aunties,.... The drawing starting with a certain number pattern of points and curly lines going around these points. Many of these are completed with a single line going in an elegant but zig-zag away around the entire set of points. The tamil month of "markazhi" (Dec(Jan) is particularly important when fairly large size Kolams are put in front of the houses, with additional decoration of Kolams with yellow flowers of pumpkin. Putting Kolams in front of the houses is very much in practice in south Indian villages. But unfortunately the practice is becoming nearly extinct in metropolitan cities where more and more are living in high-rise appartment buildings.
Martial arts of Tamil Nadu
The ancient Tamils paid a great deal of attention to physical care and development of the body. They believed that looking after the body was a very important aspect of life and if the body was not carefully tended to, all the education and wealth gathered in life was of little use. Hence, in the olden days, Tamil people encouraged youth to get involved in games, sports and various kinds of physical activities.
During Sanga period, there were many exercise centers similar to todays gymnasia. They were known as Poravai, Murankalari etc. Kalari is a work used to denote physical training centers and martial art training centers in Kerala are called Kalari even today. The teachers who train students in these arts are known as Kalaripanickar.
These physical training activities were mostly popular with the young men. Men had the duty to protect the motherland and hence needed to be well informed about martial arts. During times of peace, they kept their physical fitness at optimum level by involving in competitions and tournaments of all sorts.
During the Pallava and Chola period, there was a revival of interest in developing the martial arts. The Pallava reign saw a great improvement in the art of wrestling. Narasimhavarman, a Pallava king was an expert in this art and had the title Mamallan, meaning a great wrestler.
Silambam
This is a very popular form of martial art, which has survived the tests of time. The name is derived from the whishing and whooshing noise created by the movement of the pole used in this combat. In Malayalam, it is known as Neduvari; in Kannada, Thanda Varisai, in Telugu Karadi Aattam. Generally youth and middle-aged men involve in this. They fight with long bamboo poles. During the fight one has to protect oneself from being hit by the opponents pole. It is used for self-protection and exercise. Eye, leg and hand co-ordination is very necessary. Movements of beating, swinging the pole and circling the pole are involved. Quick steps, jumping and running are also essential. It can be practiced one against one or one against many. Success is indicated when one manages to knock the pole from the opponents hand. Expert care is given to the practice of preventing the opponents pole from touching ones body and also to the touching of others body with ones own pole.
In Tamilnadu, Silambaattam is popular in the southern districts, particularly in Tirunelveli district. This district has given birth to many famous silambatta experts like Kattabomman, Umaithurai, Marudupandi etc. The person who teaches this art is known as Silambam Vaathiyar or Aasan. This art was practiced as a game during festival times, accompanied by song and music. In Jalli Kambu method, the opponents fight with each other armed with two short sticks of 2 ½ft length.
Marpor or Malyutham
This is similar to the western wrestling. It is placed among the 64 arts listed in ancient literature. The art reached its zenith in Tamilnadu during the Pallava period. During mid Chola period mallas (artistes) went to Sri Lanka to participate in tournaments. Persons belonging to the Malliga Chetty community taught the art in ancient days. Here, the opponents wrestle with each other, attempting to push the other down. Various rules of the game apply to the procedure. In a tournament, wrestlers travel far and wide, challenging local wrestlers, and if they win, the name and fame of their own town or area is multiplied hundredfold.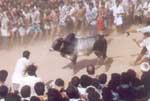 Jalli Kattu
This art of overcoming a ferocious bull is popular even today in the villages. A bull is specifically reared for this purpose; it horns sharply honed and dreadfully dangerous. When it is let out of the enclosure, many youth or a single youth run with it trying to overcome it by holding down its horns or climbing on its back. This is a very dangerous activity as one hit from the sharp, pointed horns means sure death. Normally, money or gold is tied to the horns and the successful youth removes it. At times, it is used as a method of selecting a bridegroom for a well-sought-after and beautiful bride.
In Tamilnadu, nowadays, this activity is involved in on the day after Pongal, which is known as Maatupongal or Bullocks Pongal. This is organized very efficiently at Alanganallur near Madurai. Many tourists from all over the country and also from other countries visit the place to enjoy the fight.
Festivals
Festivals are a daily feature in this region. Navaratri (September/October), Deepavali (October/ November), Karthika (November/December) and Pongal (January ) are the popular ones.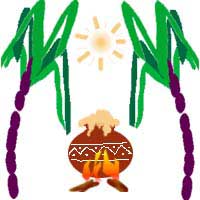 Pongal
When the harvest is over, the people of Tamil Nadu express their gratitude to the gods, the earth and their cattle. For four days, they celebrate with abandon and worship with devotion. Pongal, the harvest festival in mid-January is a very important one in Tamil Nadu.
Pongal festivities continue through the first four days of the Tamil month of Thai (mid-January to mid-February). The houses are cleaned, painted and decorated. People wear new clothes and the cattle are gaily caparisoned with beads, bells and flowerstheir horns painted and capped with gleaming metals.
Pongal falls in mid-January, at the beginning if Thai, which is a month of hope and joy and is considered very auspicious for marriages As a Tamil saying goes, When Thai is born, it paves the way for hope.
Though more popular in the rural areas, it is celebrated with the same gusto and fervor by the urban population too and the preparations are quite elaborate.
One can notice beautiful Kolams (decorative patterns made on the floor with rice flour) gracing the entrance of most houses.
Several community events like bullfight and bird fights are organized and community dinners made from the newly harvested crop are enjoyed by all.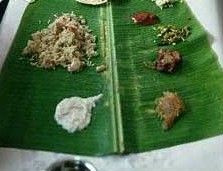 Food and Clothing
The land of Tamils is famous for the delicious Pongal, hot Idli and Sambar, spicy Puliogare, and the famous Dosa. The staple diet in Tamil Nadu is steamed rice. The basic ingredient for most dishes is the spices. A typical meal would include curried vegetables, steamed rice, sambhar, rasam(lentil soup) and yougurt. Coconut, tamarind and Asafoetida are used widely to give flavour to the food. Desserts such as burfis and payasams are also popular.
The sappad or food is served on a banana leaf. A traditional meal concludes with a small banana, a few betel leaves and nuts.
Tamil Nadu is famous for its filter coffee as most Tamils have a subtle contempt for instant coffee.
In Tamil Nadu men and women wear traditional costumes, women wear sari and blouse and men wear dhoti along with a shirt and 'Angavastra'.
Tamil is one of the two classical languages of India. It is the only language in that country which has continued to exist for over two thousand years. It is spoken today by approximately 65 million people living mainly in southern India, Sri Lanka, Singapore, Malaysia, Africa, Fiji, the West Indies, Mauritius and Reunion Islands, United Kingdom, United States and Canada. Tamil is the pre-eminent member of the Dravidian Language family and has one of the longest unbroken literary traditions of any living language in the world.